Service Plumbing
Here at Official Plumbing & Heating, we offer a vast range of service plumbing options.
Whatever it is you are looking for, we've got you covered. Our team have significant expertise and knowledge in all areas of the mechanical industry and are equally as comfortable working on a simple repair job as they are working on a brand new installation.
Whether you need a new dishwasher installed or a faucet replaced, one of our team will be on hand. If you have a leaky tap or a faulty garburator, we are here to help. Get in touch now for all of your plumbing needs.
Furnace Repair / Replacement
Nobody wants to go into winter with a faulty or temperamental furnace. Being able to control the temperature in your house is paramount to maintaining a healthy and happy household during the cold months.
Here at Official Plumbing & Heating, we understand how important this is. We offer our customers full repair and replacement services on all furnaces. We also guarantee all of our work on furnaces with our sixteen-month labor warranty.
Winter will not wait around for a faulty furnace so if you would like to discuss any of our options, contact us today and talk to one of our team.
Hot Water Tank Installation
Here at Official Plumbing & Heating, we are firm believers that every single Canadian household deserves to have access to plentiful hot water. While we can not personally see to this, we can make sure that all of our customers have access to the best in hot water tank installations and repairs.
Do not leave your access to hot water in the hands of the gods. Take control of the situation by discussing all of your hot water tank options with us. All the hot water you need is just one phone call away. Call us today. We guarantee you won't regret it.
Drain Cleaning, Repair, & Replacement
Life is far too short to waste your time worrying about blocked drains. Here at Official Plumbing & Heating, we take pride in the fact that no job is too big or too small to get our full attention. If you have a drain that needs cleaning, we will be there.
If that drain turns out to need repair or replacement, we will be there. In fact, whatever drainage needs you have, we have you covered. If you would like to get in touch and discuss the various drain services we offer, contact us today and one of our team will fill you in.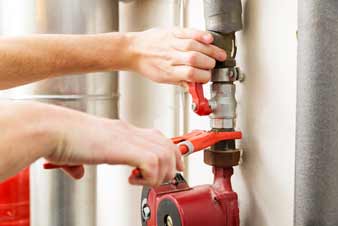 Water Lines Repair / Replacement
We all know that cold winters can take their toll on our water lines. The last thing we want, at any time of the year, is to lose our water supply because there is damage to our lines. Here at Official Plumbing & Heating, we do not want this to happen to you.
All of our team are experts in the repair, replacement, and maintenance of water lines. If you have any issues with your water lines that you think need to be fixed before they get out of hand, contact us today. One of our team will be happy to help you.
Renovations
Old and faulty plumbing and heating systems can end up costing you a lot of money over the course of a year. You could be wasting money on an inefficient furnace or washing your hard earned cash down the drain with old and leaky pipework. Here at Official Plumbing & Heating, we want to help you put an end to your unnecessary spending.
We offer our customers an extensive range of renovations services. An investment in your plumbing and heating systems will soon pay for itself and even start saving you money in no time at all. If you would like to discuss your options, get in touch with us today.
Guaranteed Plumbing and Heating Services Done Right!
Our Calgary Plumbing Service Guarantee
At Official Plumbing & Heating, we pride ourselves on being honest hardworking professionals. We do our very best to respect you and your home or business while delivering an enhanced experience through our residential and commercial plumbing and heating services in Calgary.

All of our staff are accompanied by a master or journeyman plumber so you can rest assured that the plumbing or heating work done is completed by certified, competent, and experienced professionals.
Plumbing Code and Safety Guarantee
Every job that our plumbers complete at Official Plumbing & Heating comes with a Plumbing Code & Safety Guarantee. All equipment, materials, and service provided meets or exceeds the plumbing and heating codes in Calgary.

All necessary permits will be acquired in house by us and all proper plumbing or heating inspections will be completed. We ensure 100% compliance with the Alberta Plumbing Codes and Standards on every project we work on.
Our Famous $50.00 Service Fee